COMPETENCE MANAGEMENT FOR A SAFER RAILWAY in APAC
AssessTech Asia Pacific specialises in delivering services particularly tailored to National, State, and Operator/Infrastructure customer needs. 
From our Australian based office, we deliver the latest world leading technology products and services based around the principle of Developmental Competence Management to the Rail and Light Rail operators.
With our wide and varied experience in the local railway systems and operations, we understand the present active competence systems and the historical shortfalls. It is our passion to see continual improvement in rail safety and enhance our customers' efficiency. Our specialists fully understand the unique and demanding conditions of the Asia Pacific region, the individual localities and both state and national regulations.
AssessTech supply systems and solutions across the whole railway industry in the region.  These are tailored for all types of operations whether it be heavy haul, general freight, passenger services, light rail, or infrastructure. All this is backed up with the support of our UK based operations centre, Head Office and associated software development team.
Why are railway companies in APAC interested in eCMS?
In the video opposite, Gabriel Stoud, AssessTech's CEO, explains the benefits of electronic competence managment systems (eCMS) for railway operators in the APAC region.  He talks about how the impementation of a well thought out eCMS can leverage the data collected through the assessment process leading to improvements in operational standards, better visibility for managers and a reduction in incident rates.
DEVELOPMENTAL COMPETENCE MANAGEMENT 
This is at the heart of everything AssessTech does.  It's the basis of our approach to helping make the Railway a safer place.
Developmental Competence Management is all about putting the candidate front and centre of the process, focussing on their needs and encouraging them to own their own competence.  
By using a grading system and focussing on areas for improvement Assessors can inspire Candidates towards professional and personal development and gain huge benefits for the business along the way.
AssessTech are pioneers of this approach – find out all about it by reading our blog article.
AssessTech is a technology and training company specialising in all aspects of Competence Management for the Railway Industry. 
We believe in Developmental Competence Management, which is a continuous process that achieves lower business risk and a reduction in incident rates through targeted training and development of people.
We supply hosted systems and services to Train Operating Companies, giving them better visibility of their competence related data, which along with complementary training and consulting, means they are better able to assess risk, manage incidents and target spending accordingly.
AssessTech offers three products, ACMS, AssessBook and AssessTube. These systems are designed to work individually or together to help you manage competence effectively. They are all delivered as fully hosted and managed systems.

An online learning and development platform, where you can host electronic courses and track learner progress.
Please subscribe below to receive our newsletter.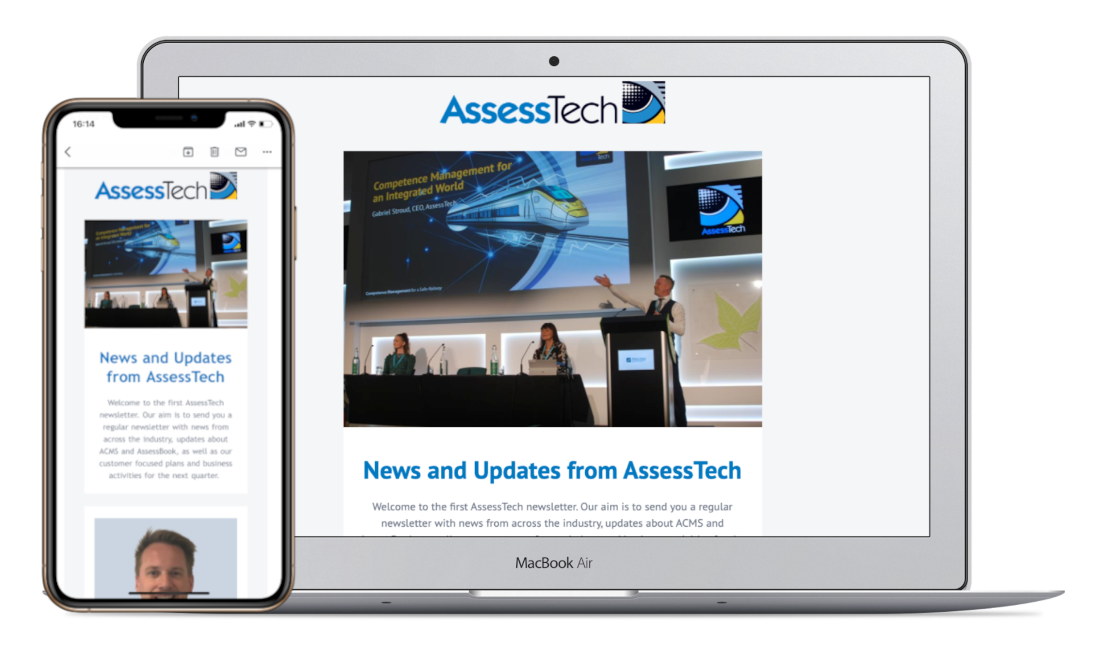 INTERACTIVE TRAINING AIDS
A series of interactive tabletop simulations, played in the style of board games.
We use these kits when we deliver training but they are also available as products to purchase as an addition to your in-house courses and we have just launched new online versions to support remote training too.
This a really great way to train learners in how to respond to an incident, prevent escalation and maintain a good company reputation. It's been developed by AssessTech as a training aid for roles such as:
Train Operator Liaison Officer (TOLO)
Station Incident Officer (SIO)
Rail Incident Commander (RIC)
The incident cause model is often misunderstood or misused by those undertaking investigations. We have developed the Incident Cause Kit as both a training aid for new investigators and a standardisation tool for stimulating discussion amongst more experienced practictioners.
It's a fun, friendly competition to 'beat' your colleagues and score points - guaranteed to cause a heated debate!
ONLINE VERSIONS OF THE GAMES
Following recent developments with Coronavirus and the need to socially distance, we are now delivering all of our training remotely using video conferences.  As part of this we have made online versions of the games that can be played remotely.
Play the videos below to see what they are like, or why not book yourself on one of our FREE sessions.