AssessBook is an online learning management system (LMS) based around a commercially available engine called Totara.
Customers can host online courses provided by AssessTech, sourced commercially or generated in-house. 
The AssessTech training team have their own AssessBook instance where online training courses are offered to candidates working towards qualifications with AssessTech. In this case the service is configured with AssessTech branding.
Branding and Language Support
AssessBook is available as a branded service for our customers. In this case the service is branded with customer colours and logos and menus are tailored to reflect our customer's company standards and terminology. A language file is included that can be tailored to support either local terminology or a completely different language.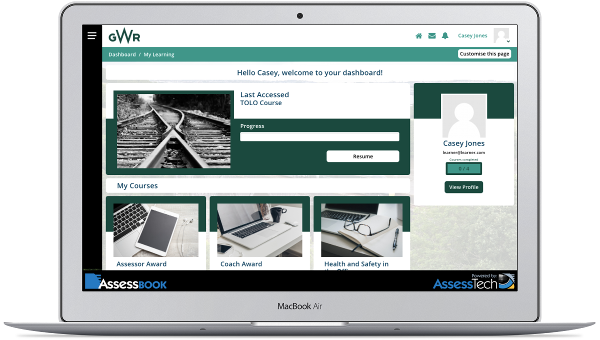 AssessTech offer an eCourse design and development service. 
We have lots of standard railway industry content that can be provided directly or tailored to your needs. For example:
Accident and Investigation Training
Fire Warden
Personal Track Safety
Security
Train Operating Liaison Officer
We can also source non-industry specific training courses for you, such as:
Communication Skills
Conflict Awareness
First Aid
Health and Safety in the Office/Workplace
Microsoft Office Courses (Word, Excel, Powerpoint and Outlook)
Report Writing Skills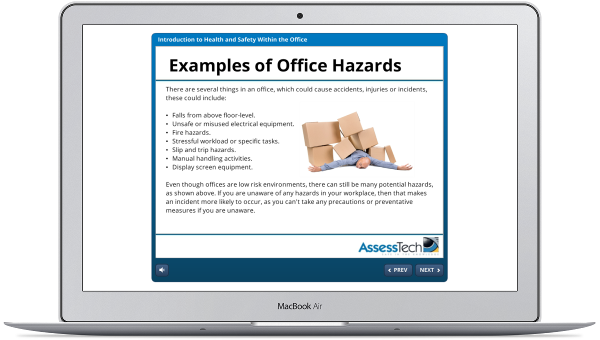 User accounts
For learners, trainers, assessors, managers and administrators.
A wide range of flexible permissions for different user types
Migration of existing training material
Import from an existing Totara/Moodle system
Migration of data from a range of other systems and formats
Customised Reporting
Uses the same reporting engine as ACMS. As such, reports are fully customisable and can even be linked to functions on ACMS.
Hosted in the AssessTech datacentre
This provides dual, redundant, high-speed network connections.
All data is backed up on a second database to provide resilience and disaster recovery capabilities.
ASSESSTECH KNOWLEDGE BASE...
For more information on any AssessTech Products or Services please checkout our online Knowledge Base