AssessBook is an online platform that supports learning by utilising the Totara Learning Management System (LMS).
Our learning management solution is offered on a bespoke basis, designed to meet budgetary requirements and business demands. As a Totara Platinum Alliance Partner, AssessTech has a wealth of experience supporting learning management solutions for the Railway Industry.
The Totara Talent Experience Platform is a transformational, open-source learning management system trusted by millions of learners worldwide, ensuring learning and compliance needs can be delivered with a powerful solution that adapts to the unique needs of your organisation. It consists of three modules: Learn, Perform and Engage. Watch the short videos below to find out more.
The Totara Talent Expereince Platform enables your people to Learn, Engage and Perform at their full potential in today's fast changing world.
Totara Learn provides the core functionality behind the learning management aspects of the solution, offering an adaptable and extendable enterprise to meet organisational needs. A range of activities can be used to comprise course materials, enabling a creative approach to building content. 
Totara Perform is a performance management system with adaptability and productivity at its core. You can harness the power of continuous performance management to boost in-office or remote workplace productivity anytime, anywhere.
Totara Engage is the learning experience platform which aims to engage and unite the workforce, leading to higher organisational performance. Knowledge sharing is made simple with collaborative workspaces, facilitating social learning and driving employee engagement.
Whilst the Totara Talent Experience Platform (available as 1, 2 or 3 modules) constitutes the basis of the LMS solution, AssessBook is designed to enrich the product range for the Railway Industry. 
With AssessTech's breadth of experience and knowledge supporting the sector, as well as its history of providing software solutions for those same organisations, we are well-placed to understand and develop solutions to meet learning management needs.
There are numerous configurable options for your site, which means that the look, feel and content can be all your own
Supports external plugins so that needs not met by the core functionality can be added
For learners, trainers, assessors, managers and administrators
A wide range of flexible permissions for different user types
Native Totara reporting allows admins and users alike to have an overview of their performance and take ownership of their development
Simple and efficient to configure – data is at your fingertips 
Course data is linked with our CMS solution (ACMS) ensuring complete data visibility for learning that informs competence cycles. 
Uses the same reporting engine as ACMS. As such, reports and interactive dashboards are fully customisable and can even be linked to functions on ACMS.
User support for trainers, assessors, managers and administrators.
AssessTech handles the hosting, providing dual, redundant, high-speed connections from its data centre.
With a second platform to provide resilience and disaster recovery capabilities.

 
The ability to import user and course data from an existing Totara or Moodle system.
AssessTech will work with you to migrate of data from a wide range of other legacy systems regardless of the current format.
BRANDING AND LANGUAGE SUPPORT
AssessBook is available as a branded service for our customers. It can be branded with customer colours and logos and menus are tailored to reflect our customer's company standards and terminology. A language file is included that can be tailored to support either local terminology or a completely different language.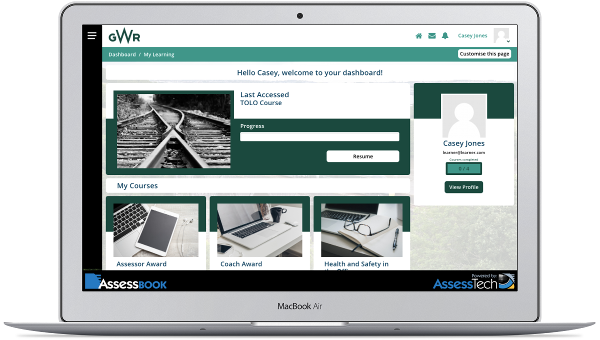 AssessTech offer an eCourse design and development service. 
We have lots of standard railway industry content that can be provided directly or tailored to your needs. For example:
Accident and Investigation Training
Fire Warden
Personal Track Safety
Security
Train Operating Liaison Officer
We can also source non-industry specific training courses for you, such as:
Communication Skills
Conflict Awareness
First Aid
Health and Safety in the Office/Workplace
Microsoft Office Courses (Word, Excel, Powerpoint and Outlook)
Report Writing Skills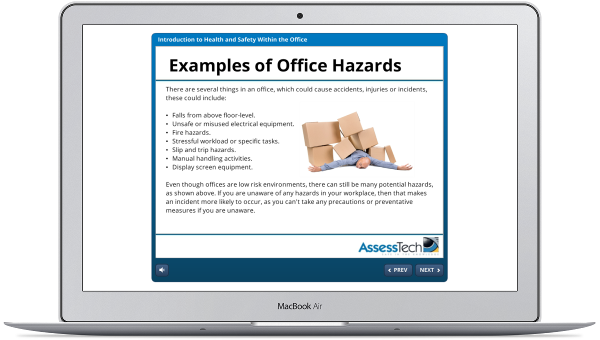 ASSESSTECH KNOWLEDGE BASE...
For more information on any AssessTech Products or Services please checkout our online Knowledge Base