Moving all our training online to keep you safe
As one of the UK's leading training partners to the UK rail industry we understand how important it is for the safety of your staff, customers and the railway to maintain staff training and assessments.
We'd like to think we're pretty innovative in our thinking, so as a result of the Coronavirus live event ban, we quickly moved all our training courses to interactive video conferencing this week. This means there will be no disruption in the quality of the training our customers currently receive, and you can be rest assured that your staff will be fully compliant with current requirements.
The training webinars are simple to set up, provide the ability for the attendees to chat, ask questions and interact with the presenter.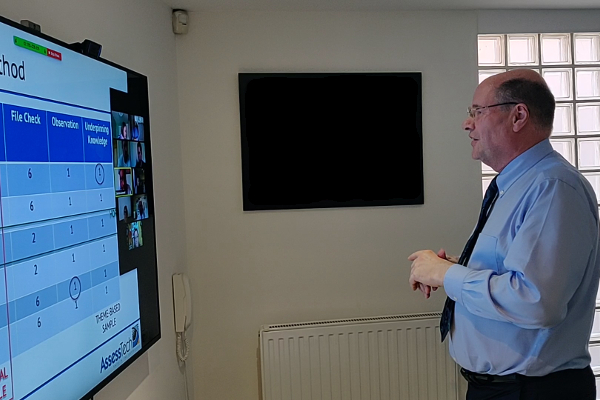 Earlier this week we delivered an IQA online training course with South Western Railway and one of the candidates said, "I was very impressed with how the course host Paul, and AssessTech, adapted so quickly. As one of the candidates it was a really well delivered course in challenging circumstances. Well done all!"
Gabriel Stroud, Director of Learning and Development at AssessTech said, "I am so proud of my team's ability to adapt this week. As a result of the coronavirus outbreak, we quickly realised that we had to find a solution to keep the railways and individuals safe and ensure our customers could operate their business as normal. The online training package we have developed is revolutionary. Individuals find it easy to access and use and we're already seeing great interaction online. We've also carried out our first remote assessment of a learner candidate working towards their award and we're now rolling this out across all our clients. We can even record individual remote assessment sessions to support candidates working towards an award".
If you want to book an online training course, please get in touch with Sally at info@assesstech.com and we will send you all the details you need to get started. Look forward to seeing you online.
Paul Wallis in Action – What it looks like at our end!