Highlights from RISSB Trade Mission and AusRAIL 2022
AssessTech attend the Department of International Trade and Railway Industry Association trade mission in Australia and New Zealand.
Taking part in the Department of International Trade and Railway Industry Association trade mission and attending AusRail in December provided the opportunity for AssessTech to engage with lots of new people from across the railway industry.
The UK signed a free trade agreement with Australia in December 2021 and New Zealand in February 2022.
The new trade deals provide lower tariffs, improved mobility and simplification of trade and investment regulations, making it easier to do business in Australia and New Zealand.
The rail focus in the APAC region is twofold: heavy rail for freight and rail for metro systems.
(From left to right) Gabriel Stroud, Graham Force and Alice Barrett at our stand at AusRAIL 2022.
New metro systems are being built in Sydney and Melbourne, including links to Melbourne's existing International Airport and Sydney's new second International Airport. Underpinning this growth is a strong demand for rolling stock and maintenance.
Department of International Trade and Railway Industry Association (RIA) Trade Mission
Gabriel Stroud and Alice Barrett from AssessTech joined the trade mission, visiting New Zealand and Australia, meeting up with our Business Development Manager for the APAC region, Graham Force.
Gabriel and Alice at the Aukland City Rail Link (CRL)
The trade mission started in New Zealand. In 2021, the NZ Government committed $935m (NZD1.3bn) to the region for rail development.  Some work is already under construction such as Auckland's City Rail Link (CRL), the country's first underground rail loop, which will be followed up by the Auckland Light Rail project's CBD-Auckland Airport line.
It was encouraging to have conversations with railway organisations across New Zealand who are already thinking ahead to the operational requirements necessary to ensure safety critical staff are in place, once the infrastructure work is complete.
Australia is also experiencing record levels of investment in infrastructure which is expected to peak at USD36 billion in 2023*.
During the trade mission, the AssessTech team visited one of the major developments – the New Melbourne Town Hall Station development, more than 30 metres below Swanston Street, linking Federation Square, ACMI, and St Paul's Cathedral – with a direct underground pedestrian link to Flinders Street Station and the City Loop.
The Metro Tunnel will transform Melbourne's train network, delivering more trains to and from the suburbs – slashing travel times by up to 50 minutes each day. The new station is a "trinocular" design of three overlapping tunnels creating a cathedral-like atmosphere, with soaring arched ceilings up to 10 metres high and platforms that span 260 metres.
As part of the mission, Alice and Gabe attended a British Consulate reception in Sydney where they met with senior people from industry to discuss the benefits competence management could deliver for their organisations.
It was encouraging to understand that, as many were expats, they had utilised AssessTech's solutions and training in their former roles working in the UK so had a good knowledge of the benefits it could bring.
Louise Cantillon, British Consul General and UK Deputy Trade Commissioner, Australia and New Zealand said: "Rail made the UK's industrial revolution possible, and rail can lead the green industrial revolution. The UK is a world leader in rail innovation, and we are capitalising on our expertise to drive clean growth and investing in the industries of tomorrow."
British Consulate Sydney, UK Rail Trade Mission Australia, New Zealand & AusRAIL 
"Free Trade Agreements have been negotiated in Australia and New Zealand and through these agreements, companies will be able to make contacts, build relationships and maximise opportunities."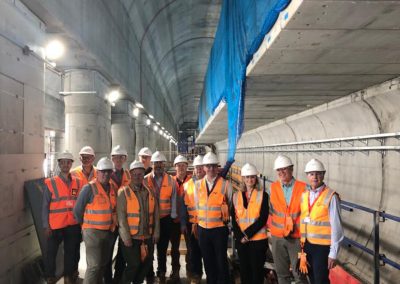 Following the mission, the team attended AusRail, the national, annual conference and exhibition of the Australasian Railway Association (ARA), bringing the industry together to engage on key issues.
The AssessTech stand was busy throughout the show.  Many of the individuals previously met during the mission had signposted their operational teams to visit and find out more about AssessTech's experience and range of competence management learning and development solutions.  The busy stand provided the opportunity for cross-industry collaboration where individuals from passenger, metro and freight were talking about common challenges and sharing insights.
A message from our CEO, Gabriel Stroud:
Companies in Australia are on a similar journey to those in the UK. It was great to meet a range of interesting, experienced individuals, many who had started their journey in the UK, all facing similar challenges around improving safety on the railway.
We really enjoyed the mission and AusRAIL and are looking forward to building strong partnerships with companies in the region over the next few years.