AssessTube is a secure video hosting service, where videos can be uploaded for streaming to a range of devices.
Our customers typically use this service to host Route Learning videos and other training material. The videos are streamed to users in the most appropriate format for their device and network connection. Using this online content management solution ensures they always see the latest version.
At AssessTech, we use AssessTube to host training videos for our own services and courses – it's shown here with our own branding.
Branding and Language Support
AssessTube is also available as a branded service for our customers. In this case the service is branded with customer colours and logos and menus are tailored to reflect our customer's company standards and terminology. A language file is included that can be tailored to support either local terminology or a completely different language.
AssessTech offers a complete route filming service.
We can provide full 1080p HD videos for front and rear view, plus a professionally recorded voice over. Our people hold PTS competence and will set-up the cameras, record the video and provide you with fully edited and captioned videos for you to host on your AssessTube or distribute by existing mechanisms.
We can add route diagrams and signal information.
We offer full video processing and format conversion services too.
Streaming / Downloading
Videos can also be streamed or downloaded, as required.
Videos are stored in a raw format and transcoded appropriately when they are selected for streaming.
User Permissions
Videos are hosted with permissions that control who can see what and video playing can be tracked.
Customised Reporting
Uses the same reporting engine as ACMS. As such, reports are fully customisable and can even be linked to functions on ACMS.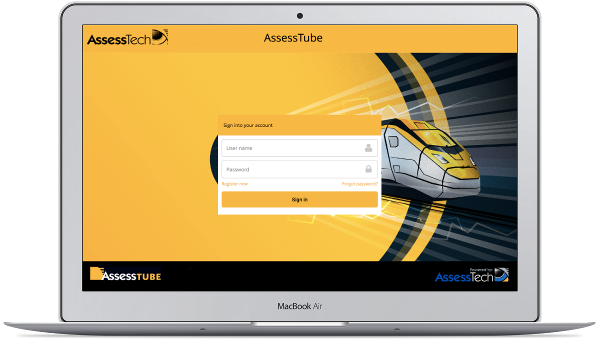 Hosted in the AssessTech datacentre
This provides dual, redundant, high-speed network connections.
All data is backed up on a second database to provide resilience and disaster recovery capabilities.
ASSESSTECH KNOWLEDGE BASE...
For more information on any AssessTech Products or Services please checkout our online Knowledge Base