South Western Railway move their electronic competence management to AssessTech
AssessTech has recently partnered with South Western Railway (SWR) to provide a full electronic competence management solution. 
SWR had been using a competitor platform to manage their competence for a number of years and decided to move to AssessTech's ACMS solution as it offered more options that met all their business requirements.
Challenges that were facing SWR included:
Not all staff were using the electronic competence management solution and were still uploading paper-based copies of assessments
As an organisation, SWR has a drive to be completely paperless and need to ensure all areas of the business comply with this
SWR wanted to access reports and dashboards that clearly mapped the competence landscape of their organisation, which were not readily accessible from the current solution
They had a requirement to import a legacy Lotus notes platform which wasn't compatible
SWR drivers were using tablets, but the previous solution only provided an Ipad version
SWR strongly believes in developmental competence and required a solution which put the owner front and centre of their own competence management
AssessTech's ACMS platform has provided SWR with all of these solutions and more. It provides a complete electronic developmental competence management solution that meets the requirements of the organisation.
Stewart Player, Head of Operational Standards for SWR said, "Competence Management is such a crucial part of SWR's business processes to ensure we keep our staff and the railway safe and minimise incidents. To do that we need a standard process for competence management across our organisation and the data and reports to support that. ACMS provides us with an excellent solution for this. 
 "I created a 5-year eDepot strategy for Great Western Railway (GWR) to standardise and improve competence management, this is now being rolled out to South Western Railway (SWR).  I strongly believe in developmental competence management to ensure staff manage and drive their own competence and our assessors support them to achieve this.  We started with creating new competence criteria and have now implemented ACMS.  ACMS provides us with an electronic developmental competence solution that is fully web enabled, easy to use and provides a standardised approach for the whole First Group organisation."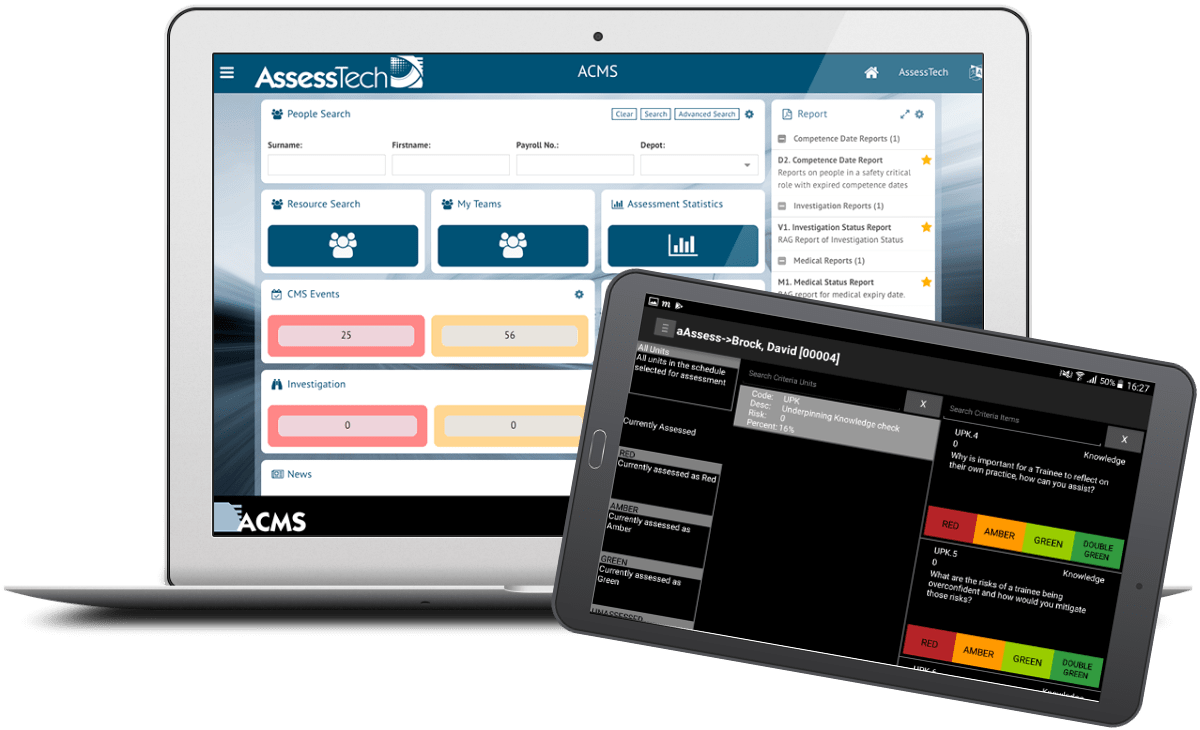 AssessTech will be instrumental in importing the legacy lotus notes database for accident investigation into SWR's ACMS platform, providing the ability to share and store reports and standardise the information being shared across First Group.  ACMS also works on android tablet, which provides an easy mobile solution for drivers and assessors.   SWR has also adopted the Check module and aCheck App, which enables them to monitor staff against fitness for duty.
 As a result of this rollout, SWR has now employed two new roles to manage their electronic competence, responsible for managing the data and electronic storage of records within ACMS.