Behind the scenes… Customer Services Team
From left to right, Leanne, James, Alice and Pat
The customer operations team at AssessTech has changed over the last few months, so we wanted to introduce you to our new colleagues.
The Customer Operations Team are the people who deal with front line customer queries and systems training, working closely with the development team on new releases and new features for ACMS. 
Heading up the team is Leanne Hammond who has recently joined the team. Leanne is a friendly, outgoing individual who describes herself as level-headed and a 'safe pair of hands'.  As Head of Operations, Leanne leads the customer support team within AssessTech, managing the day-to-day operations, including support calls and customer issues and working closely with the admin users and executives in each of the AssessTech client organisations. Ensuring customers receive the best service possible and added value to their business is a key driver for Leanne and the rest of the team.
With a background in financial services, working across quality and project management, Leanne's focus will be to shape projects to ensure they proactively deliver exactly what the customer needs.  A keen sports person, Leanne loves netball and plays for her local club. She is also a fully trained umpire in the Reading and District League.  She is also Mum to two children and is often found out in the park or more recently 'home-schooling' whilst juggling with a new born baby, which she claims to be her biggest achievement over the last 12 months, as it is a job that she didn't apply for!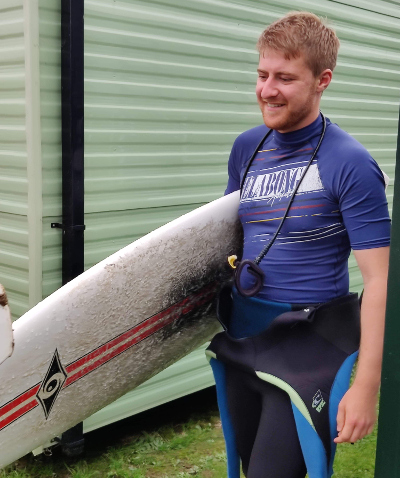 James heading to the waves
James Pawsey, is a customer operations specialist who works closely with customers to arrange imports of data into bespoke customer configurations and ensure they are fully supported in their set up and ongoing use of ACMS.  He also works closely with development team to test and eliminate bugs and new versions of the software.
A techy, sporty, active Arsenal fan, James plays football for Chiddingfold FC. When he's not on the pitch, he's either mountain biking or surfing the waves.
Alice Barrett works closely with all AssessTech's customers providing help to resolve problems with the technology solutions, gather feedback on new features they require and support with testing of new iterations of the technology platforms. She's very diligent in training customer admin teams on ACMS.
Alice graduated from the University of Sussex where she was a dance captain responsible for leading a dance troupe and choreographing competition dances.  When she's not dancing, Alice likes to spend time with friends, weight-lifting in the gym or spending time out walking with her dogs. 
Alice demonstrates her ballet skills
Pat at the Ryder Cup 2019
The newest member of the team is Patrick Sawkins (Pat to his friends). As a customer operations specialist he trains and supports customers with issues and enquiries on ACMS and Assessbook. 
Pat is a graduate from the University of Surrey.  He's a huge sports fan and regularly participates in football and golf.  He also loves attending sporting events such as golf championships such as the Ryder Cup or the PGA championship at Wentworth and when not at those, he's supporting his local football team, Aldershot town.
If you have a question regarding ACMS, AssessBook or AssessTube, don't hesitate to get in touch with the Customer Operations Team on +44 (0)1483 338646.