Dealing with increased incidents during a green light railway
With passenger numbers estimated to drop by 70% during times of social distancing and self-isolation there's huge pressure being put on the UK rail industry to ensure they keep the UK transport system operating so keyworkers are able to travel to work.
During this time, we are experiencing less trains therefore the majority of the signals show a proceed aspects 'green light railway'.  It is assumed that multiple proceed aspects would make the railway safer. However, with less triggers to focus staff attention there are potentially more opportunities for distractions, which may lead to more incidents. With this in mind it is an ideal time use technology to look at the risks and create individual, tailored responses for railway staff.
We have seen lots of our clients convert seamlessly to remote working and continue with their day job as the railway can't stop.  However, the question going forward will be, how will the outcomes of remote working change the way individuals across the railway industry do their job when we come out of lockdown.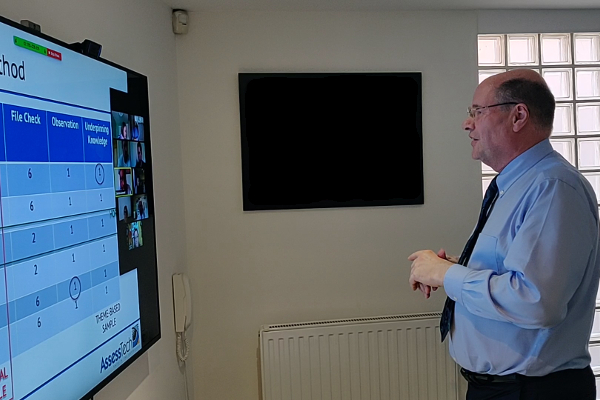 At AssessTech we've risen to the challenge and amended the way we deliver our services to facilitate the changes social distancing has brought as we realise how important training and assessments are to ensure the railway industry keeps moving.  We're really proud of the fact that within 2 days we were able to create a virtual training room with specialist webcams and through the use of Zoom our trainers were able to continue with their training schedule, adhering strictly to the rules of social distancing. 
So, what do we think are the next steps?  The technology already exists, but the industry needs to put the processes in place to make positive change.  Currently, technology is being used to connect people, however, now we have an opportunity to use it in a more focused way, with the key aim of minimising risk and ensuring we run a safer railway through reduced incidents.
It is now more important than ever that competence management follows a developmental approach where candidates take ownership of their own development, self-assess and have learning resources at their fingertips.  We have now introduced real-time remote assessment of candidates using tools such as Skype and Zoom, where the candidate and assessor are in different locations and interventions are recorded to provide evidence.  Another area we are looking at is the use of wearable technologies, for example a wearable camera for candidates, which will enhance this experience even more.  With individuals taking ownership of their own competence, they can monitor their own performance and set their own criteria in the areas they want to improve. 
Using reports, verifications and bespoke feedback from our internal systems a manager can carry out assessments from the luxury of their own offices, or even their own homes. This would result in less travel time and less carbon emissions, shorter recorded sessions undertaken more often, delivering increased efficiencies and improved productivity for our customers.
The world is changing.  And what we all need to realise is that aspects of it will remain changed forever.  We have an opportunity to change things and make them better.  At AssessTech we are reacting to these changes and have already put lots of new processes in place to help our customers maintain a safer railway, although we're only at the start of our journey and are very excited about the road ahead.