What will the 'new normal' look like for AssessTech as we come out of #Lockdown?
On March 23rd 2020 the UK changed.  As the Coronavirus pandemic was taking hold, businesses were at a standstill wondering what the future would look like for them.
At AssessTech, that was the day we received the keys for our NEW Guildford office in Guildford with ample space for our growing team and 2 large training rooms.  So, what should have been a time for celebration, actually brought about a time of change.  However, we did what we do best.  We assessed the situation, looked at the challenge ahead and found an innovative way to pivot our business.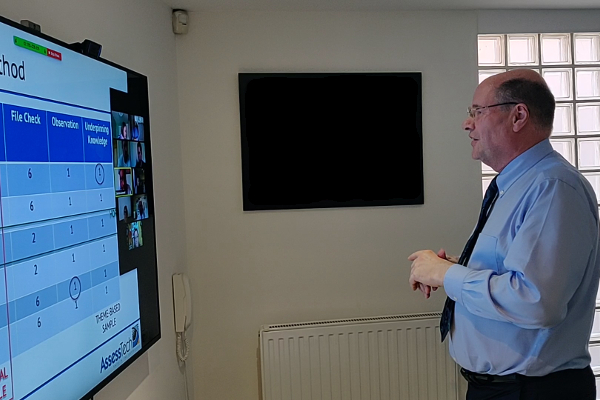 As mentioned in a previous blog, customers cancelled training as soon as we went into lockdown as they felt that staff working from home couldn't attend training courses. However, the railway was still running so we knew we had to change our training offer to ensure we maintained safety on the railway. As a result of some very sharp thinking and a whole load of hard work, our virtual training courses were up and running within the first week of lockdown and we had our facilities kitted out for trainers to provide the training courses using state-of-the-art equipment and interactive video conferencing. Although sceptical, customers agreed to rebook. And it was a success.
Now, as we start to return to the new normal, we're considering what 'new normal' is for AssessTech and the way we deliver our training courses in the future. We want to offer virtual training packages that are interactive, engaging and innovative. We already use a series of board games to make physical training fun and engaging, so within 2 weeks of going into lockdown we turned our boardgames into table-top simulators that our audiences could play online. And alongside the Incident Recovery Kit and Incident Cause Kit, we have now launched SIO – Station Incident Officer game.
While we were working on simulated games, we noticed a dramatic increase in the use of ACMS.  Managers were logging in from home to analyse data and generate various reports.  We felt this was a perfect opportunity to provide tools and courses to support them manage incidents through running standardisation sessions.  The initial courses were incident investigation lunchtime courses.  They were so popular they were booked up two months in advance.  Since then we have also introduced TOLO and SIO courses alongside Assessor and Verifier surgeries. 
One of the core benefits of delivering these courses across the whole railway industry is the sharing of knowledge.  Candidates on the courses are using the opportunity to engage with their peers, share ideas, discuss common challenges and provide solution ideas. It's been a fantastic platform for cross-industry discussion.   
Our plans are to continue delivering these courses and we are also encouraging TOCs to do their own! 
Our trainers are loving the new ways of working.  Delivering online brings its own challenges – how to encourage discussion, how to have 1:1 chats within a wider meeting.  "I am delighted with the way our trainers have reacted to the changes.  They have developed a completely new way of working and are now looking for new and better ways to make the training even more engaging. As lockdown starts to ease and we start to return to this 'new normal' situation, I believe virtual training will form a huge portion of our training going forward and it will be a while before we start to deliver physical training courses again. 
"I also believe lockdown has brought significant benefits to the whole UK economy: we're now more relaxed, our carbon footprint has reduced and people are actually having a lunchbreak! I feel with this in mind, virtual training will become the new normal for many people across many industries" said Gabriel Stroud. 
Staff will return to the AssessTech office, on a phased basis, from August.  We are looking forward to having all the staff back under the one roof and the flexibility the new office space offers us, as we grow.