AssessTech launches NEW Risk Management Solution
Following feedback from our customers that there was a need to manage risk and compliance data, we are delighted to bring you 6clicks, a feature-rich Risk Management Solution.
6clicks offers the ability to manage all your risk and compliance data in one place and share this across your business. The responsibility for risk assessments can be devolved to local teams, while maintaining centralised control, enabling you to automate and accelerate risk and compliance processes in your business.
It has the Risk Management Maturity Model (RM3) criteria built-in and the option to further configure it to support many different risk assessments and custom risk registers.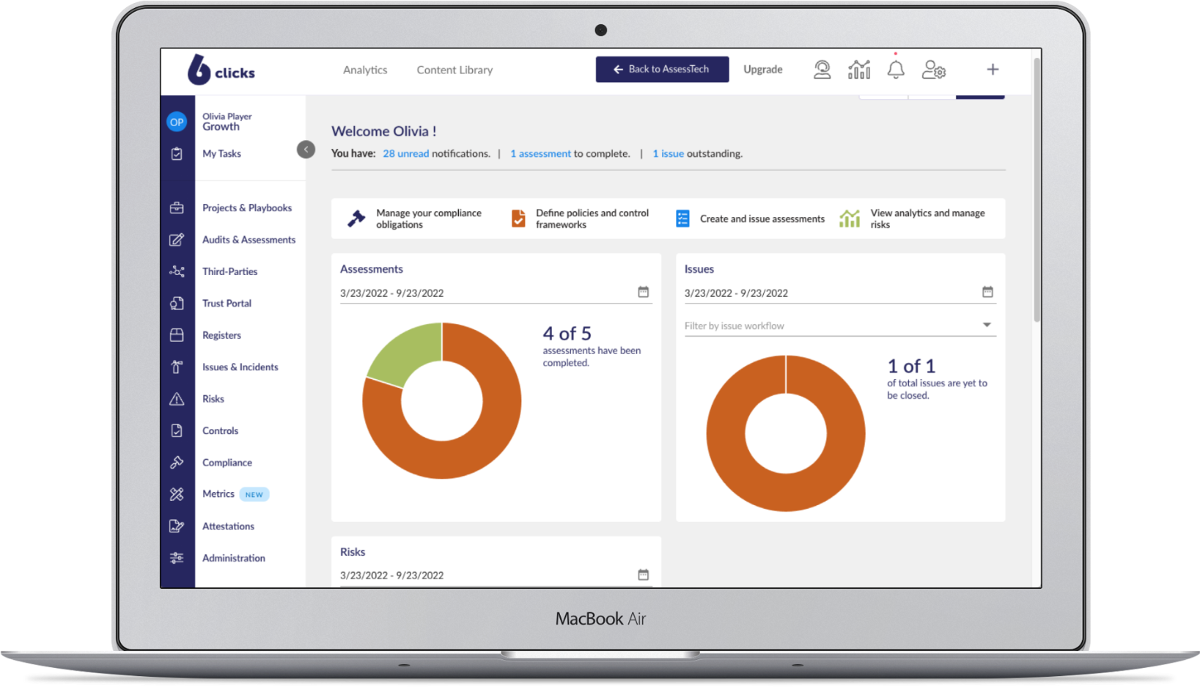 6clicks is excited at the opportunity to partner with AssessTech to support the Railway Industry. It has been an absolute pleasure working with the AssessTech team and witnessing the work they have put into integrating the RM3 model within the 6clicks platform. We are excited about the future opportunities that this partnership holds.
After an extensive evaluation of products on the market, we have chosen to partner with 6clicks to provide this service. 6clicks was founded in 2019 and has offices in the United States, United Kingdom, India and Australia. They work with global organisations such as Queensland Government, TATA Consultancy and CyberCX to setup and automate their risk and compliance programs.
Utilising our knowledge and experience, we have tailored the solution to meet the needs of our customers across the railway industry. 6clicks offers some great features:-
Audit and Assessment
Risk Automation
Policies and Control Sets
Dashboards
Advanced Report Builder
Task Management
Project Management
Risk Awareness
6clicks is available to customers globally.  One of the key concerns around digitalisation of railway systems, particularly in the Gulf Cooperation Council (GCC) is the increased vulnerability of railway operations to cyber-attacks.  These cyber incidents result in a range of conceivable consequences, including legal liability, reputational damage, financial loss, injury or loss of life due to systems being compromised and could result in service disruption, data breaches, system malfunction, passenger safety, network outage and more.
With over USD 69 billion worth of rail projects under construction in the GCC, cybersecurity is thus becoming a primary consideration for the railway industry in the region.   6clicks will be a huge benefit to organisations in this region, providing them with a much broader range of tools to prevent cyber-attacks.
Find out more about 6clicks here.
We have been exploring a risk management solution for a while and are excited by the opportunity that the 6clicks product offers our customers. We have been working closely with the team at 6clicks to incorporate the specific content relevant to the railway industry. The relationship between incident investigations and the management of the risks identified during this process is clear, so we are really excited to extend the AssessTech product range in this direction.