AssessTech User Forum 2022: Highlights & Livestream Videos
Connecting, Collaborating and Building Strategic Partnerships Across the Railway Community
The theme for this year's User Forum was 'Connecting and Collaborating across the Railway Community' and that theme came through strongly in the presentations and activities that took place throughout the day.
Our CEO Gabriel Stroud kicked off the day by highlighting the importance of collaboration and sharing to develop strong strategic partnerships with all our customers and partners in delivering the systems and services you need to reduce incidents and improve productivity. We were joined on the day by some of our partners and friends from across the industry including:
Totara
6clicks
Avansim
Denova Solve
ITAL
RSSB
Railway Children
Here is a summary of some of the key presentations from across the day.
Gabriel Stroud, CEO AssessTech, gives the Keynote Speech
Cross-TOC Working Group
SWR and GWR have come together this year to form a Cross-TOC working group. As one of the first customers of ACMS, GWR realised early on that they had a strong influence around how they could shape the platform. SWR joined AssessTech in 2019 and relationships between these TOCs were formed. Avanti joined in 2021 and approached SWR and GWR to understand how they were using the platform, what worked and what hasn't worked so well. On the back of these relationships (and more) the working group has now been formed to encourage open discussions to shape the development pipeline of ACMS and assess priorities for the team at AssessTech.
Some of the learning that has already been shared is around:
Paper-free working as part of an e-Depot strategy
Sharing user guides and support materials
Implementing aBulletin for notice distribution going to the most appropriate audiences

 
Annabelle Marks, SWR and Rosie Alexander, GWR
This open forum also enables the ability to assess key trends across the industry, share knowledge and helpful tips and ultimately create best practice for industry wide eCMS.
If you are an AssessTech customer and are interested in getting involved in the working group and attend one of the quarterly meetings, contact either Rosie Alexander at GWR or Annabelle Marks at SWR for further information.
Using Totara to be more active in your learning journey
Totara is the platform behind AssessBook. As an organisation, Totara has grown significantly, now with over 1500 customers world-wide – half of the NHS access all their learning and development information on the Totara platform. 
Lars Hyland, Managing Director, EMEA for Totara Learning said, "Technology has rapidly changed but the way we approach learning hasn't." 
Companies need to be more flexible and consider both action learning and collaborative learning to bring the formal learning more closer to the informal learning opportunities and give people the opportunity to execute the skills they have and improve these skills further.
Action Learning is a mixture of formal and informal learning where an organisation brings individuals together to meet a common learning and development goal and where each candidate determines their own learning needs to meet that goal. Individuals will collaborate with experts and peers online and work together to meet the objective. The organisation will determine;
Who needs to be involved?
What learning do they need?
Who can be the expert?
Engage and Collaborate
Through AssessBook, it is possible to add Totara Engage alongside Totara Learn, which offers organisations a dedicated space and ability to share best practice with controlled groups of individuals and take action! This is a great place for organisations to:
Post up resources such as videos, documents, polls etc.
Create group resources
Have private conversations and invite individuals to comment
Create discussion threads
This helps share knowledge, solve problems faster and drive innovation across your organisations. Through the reports, management can get a holistic view of performance across the organisation.
If you want to find out how AssessBook can work for your organisational learning and development needs, get in touch at info@assesstech.com.
Mobile Learning App
Working with our partner, Mobile Learning, we have launched MLearn, an offline mobile app that works alongside AssessBook to provide true offline capability.
Using MLearn candidates can complete courses and modules offline with confidence and can synchronise when it suits them – even if the synch fails, the data is retained in the app so it can't be lost. This improved confidence in reliability of the solution can only lead to improved willingness to use the gaps in their schedule to improve their learning and through this, their competence.
 It is compatible with Totara V12+ as well as existing SCORM packages. 
Some of the new features being developed within MLearn include.
Mobile push notifications
Dynamic audiences to make mobile friendly dashboards
Advanced to all Totara advanced reporting via the App
Augmented Reality which can be used to create a digital twin model that can be utilised to improve safety training
6clicks Risk Management Tool
Through our partnership with 6clicks, we now have a risk management tool for the railway industry. The 6clicks tool enables organisations to manage all their risk and compliance data in one place and effectively share this across different teams and departments.
We were particularly keen to offer a product in this space to present our customers with a solution around managing the recommendations that come as a result of incident investigations. These often generate multiple actions and issues that involve people in varying roles across their organisation.
Railway organisations may be struggling with challenges such as:
Process failure
Lack of accountability
Managing their issues and risks register
Capturing information across the business in one centralised area
We expanded our exhibition area this year and had eight exhibitors in total:
Other exciting topics were discussed at the forum including verification strategies, simulation and the technology roadmap.  You can watch the recordings from each of the sessions on the day, along with all the discussions and questions asked by the audience below.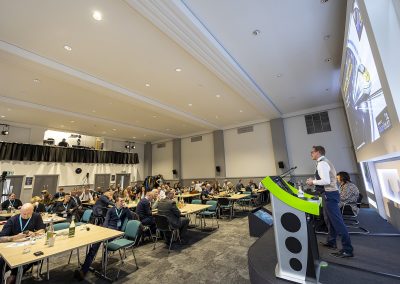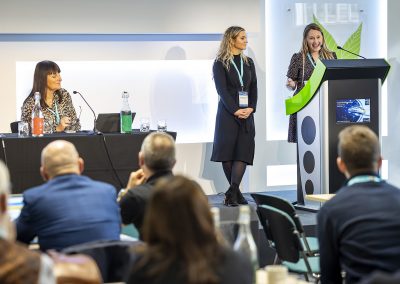 Whilst most people attended in person, each of the sessions were livestreamed to virtual attendees. If you wish to watch any of the User Forum 2022, select the videos below.
Connecting and Collaborating – Keynote
Gabriel Stroud, CEO, AssessTech
AssessTech Company Update
Sally Brinkley, COO, AssessTech
Customer Support
Rob Green, Director Operations, AssessTech
ACMS Update
Alice Barrett, Technical Account Manager, AssessTech
ACMS Working Group
Rosie Alexander, GWR & Annabelle Marks, SWR
Building a Unified Learning Experience
Lars Hyland, Totara
Mobile Learning for AssessBook
Sally Brinkley, COO, AssessTech
Driving Simulation – A flexible Tool
Ian Rowe, Avansim
Becoming Proactive – A Compatence Management Strategy
Leanne Hammond, Director Training & Consulting, AssessTech
Risk Management by 6clicks
Megan Baltazar, 6clicks
Development Raodmap & Strategy
Hannah Washer, Director Product Management, AssessTech